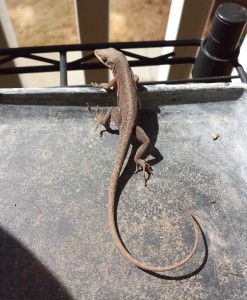 At the end of last summer I saw that we had a lizard living out on the porch. Since I didn't grow up with these things living outside my house as a kid, I am intrigued by seeing them in my urban surroundings now. In recent weeks as the winter weather has given way to the Spring warmth, I have seen not one, but two of these lizards spending time on the deck, often times running to and fro, and at times even climbing around my bonsai tree. The larger photo you can see was taken after he was hiding in the drip tray underneath my tree.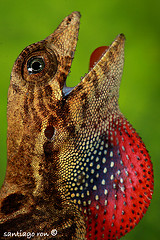 Although I like to consider it a "gecko" or "chameleon" (those names are just kind of cool-sounding), I have determined that it is likely a brown anole (anolis sagrei).  It looks like they feed upon insects, which is a good thing for me since I had an ant infestation in one of my porch plants last year.  I have noticed that at least one of the anoles outside occasionally puffs out its pinkish-red throat (similar to the smaller photo).  Perhaps a sign of mating?
Strangely enough, the lizard activity on my porch seems to have abruptly ceased about two days ago.  Before that, they were quite active outside, but then they seem to have disappeared.  Did they get poisoned?  Move camp?  My hope is that they are camped out somewhere in the equivalent of a lizard birthing hospital.  That's right – I'm hoping that I will see them again with a larger family.  Who wouldn't want to see cool baby lizards out and about?
My fascination continues.