I came across an article about recent comments by the VP at Google regarding the potential loss of photographs and other information because of the current trend of storing them in digital format.
Warning that the 21st century could become a second "Dark Ages" because so much data is now kept in digital format, he said that future generations would struggle to understand our society because technology is advancing so quickly that old files will be inaccessible.
Print out digital photos or risk losing them, Google boss warns – Telegraph
This is a problem that I've personally encountered when I wanted to access a paper I wrote in the mid-1990s.  The word processing program I used back then saved it in .wps format, which is not the easiest to open now without having a distorted-looking document on your hands.  Fortunately, over at Zamzar I was able to convert it to .docx format, and while the end result was pretty good, I did notice that not all the information was properly converted (page numbers were messed up).  But what if I had saved the original file in some other format that was not as easily convertible today?  Or, what if I was running a proprietary program in the 1980s or 90s that saved information in some obscure file type?  How would I recover that data today?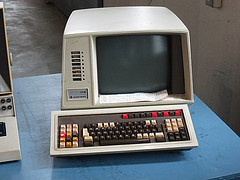 Fast-forward 100 years into the future.  Historians of that time could have a mighty task on their hands trying to dig through the wave of digital information that came crashing down onto the world in the past 20-30 years.  Today, archaeologists excavate sites and historians dig through dusty books to uncover information;  in the future, "digital archaeologists" may be employed to crack obsolete file formats, and historians may rely on software designed to comb through vast quantities of ones and zeros in search of new information.
Although the article about the Google VP's comments emphasized the need to print off photographs or risk losing them altogether, I actually think that photographs may be more likely to survive.  Typical image formats haven't really changed much in the past few decades, so chances are there will be a high demand for converting these file types into new types that may be introduced.
Still, digital formats are subject to other forces.  Images that were burned to tape backups or CDs in the early 2000s, for example, might not be recoverable if that type of hardware cannot be read in the future.  Small drives that contain thousands of images today might be misplaced more easily that could a large box of old photographs that would otherwise sit in an attic somewhere.
If you look at the accompanying black and white photo you can see a scene from Paris, 1838(!), which was possibly the oldest known photo showing a person in it.  The photo somehow survived all these years because of the way it was preserved, either intentionally or unintentionally, and it gives us a beautiful insight into the world of 175 years ago.  While we may take for granted that people living 175 in the future will have a crystal-clear picture of how we lived in 2015 because of all the data produced today, this is more of an open question than it may seem.