Joan was born of a peasant family of Domrémy in eastern Champagne, a village where the peasantry has suffered particularly severely from the three way civil war between the Armanacs, the Burgundians and the English. Through flight, the loss of animals, and the general lack of law and order, the peasants had little regard for either their English conquerors or their own French nobility.
A chronicler of the time reporting that many "desperate people, lost children, who abandoned their fields and their houses, not to inhabit the strongholds and castles of the French but to lurk like wolves in the depths of the forests".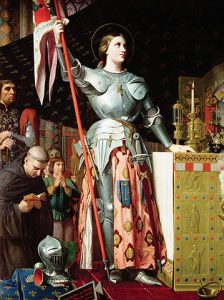 This was also a period in French history where the fortunes of the land owning seigniorial classes were at their weakest, and the peasants, through scarcity of manpower, were at their strongest, and had every reason to feel loathing towards the seigniorials. As such, many peasants may genuinely have seen the Valois king as their only hope.
According to legend, Joan,who as a girl had worked as a cowherd and had spent many hours in the parish church, claimed that she saw visions and from the age of thirteen had heard the voices of the the saints telling her that she must save France. In 1428, her uncle took her to a Dauphinist stronghold, where the garrison captain was unimpressed by her claims. However in April of the following year she arrived at the Dauphin's court at Chinon. Here she was able to win over several soldiers and courtiers.
In May, with the army she had inspired, she raised the siege of Orleans and in the next month defeated an English force at Patay. In July she was able to take Charles VII? to be anointed in the cathedral at Rheims, which did much to improve his prestige in the eyes of his subjects. Joan now wanted to march on Paris, but this idea was only halfheartedly pursued and proved to be a failure.
In 1430, Joan was captured by the Armanac's mortal enemy, the Burgundians, who handed her over to the English. The rest of her short life (she was just nineteen when she was executed) was one of torture, imprisonment, interrogation and finally execution.
After this short burst of activity inspired by Joan, the Valois court returned to their old ways and it would not be until the Burgundians changed sides, and the English invasion had lost momentum, that Charles was able to obtain Philip the Good's recognition of his right to be King.